Carpenter & Joiner tips.
Carpenter & Joiner tips. Curved wooden floor joint to the stairs gallery.
To make in one level straight wooden floor joint to the stairs top step, it is not complicated by using a jointing biscuit. Make long the floor curved joint to the stairs gallery can be a difficult and time-consuming job.
Suggested type of joint, if, in your case, slimline wooden caping trim to cover curved wood floor and stairs joint, is acceptable.
After stairs and floor installation, leaving a gap of approximately 5-10mm for glue.
If your floor is a floating type floor, remove just below the joint gap underlay so adhesive can stick to the subfloor surface and edge of floor and stairs gallery.
Level floor to the stairs by packing floor underneath used wooden bits with screws across floor and gallery joint to help hold one level firmly till adhesive sets.
Apply flexible floor adhesive into the joint gap and leave till completely cured.
Remove temporary wood leveling bits with screws and install wooden biding & trim on top with flexible adhesive; the suggestion to use a similar color flexy adhesive to your floor.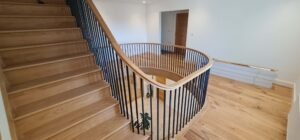 But if you are looking for Joiner to install stairs in London and surrounding areas, please visit our site; we promise to get back with a quick estimate in 24 hours.
Tonex Ltd. and is happy to help you express yourself.